Overcharged When Withdrawing Cash Abroad?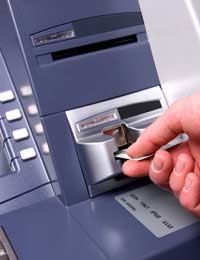 You want to be able to spend some money when you go abroad, have a great time and not penny pinch too much about the cost. Taking money abroad is a minefield, and taking it out at an ATM is well known for being an expensive way to do it. If you need to get your hands on your cash in a foreign country, how can you do it without paying over the odds?
Using Your Credit Card to Pay
Most of us have a current account or a credit card with one of the major UK banks or credit card providers - and the honest truth is that most of these providers waste very little time in charging you extortionate amounts for daring to use them abroad.
The charges don't just apply to the well-known cash cow - taking cash from an ATM, either. No, the chances are that there will be sneaky fees applied for simply using your credit card to make purchases abroad too. Check this with your bank before you go away.
If you're thinking of using credit or debit cards to make purchases on holiday, it's also advisable to contact the provider beforehand, just in case they register your profligate spending in Magaluf as being out of character and stop your card to avoid credit card fraud!
Post Office credit cards don't charge for overseas transactions, and there are one or two high street banking companies that also use the fact that they don't charge as a major selling point - do your research before you go and you could save yourself plenty, while keeping the convenience of being able to use your card and when you need it.
Using Credit Cards to Withdraw Cash
It is usually a bad idea for your finances to use a credit card to withdraw cash from a cash machine. Only do this in an emergency as most companies charge a lot for doing this in the UK - and even more in a foreign country.
Using a Debit Card Abroad
Most major banks will charge you through the nose for withdrawals on your bank debit card overseas. Typical charges can be around 2.5%, and then add a loading to the rate which translates into a minimum fee of £2.50 and a 2.75% commission. Watch out when you're paying on debit cards too, sometimes the charges for transactions can be worse than cash withdrawals, and some countries haven't mastered the technology so they won't even accept a debit card for payment.
If You Don't Want To Change Your Bank Account...
If you can't be bothered to go through the hassle of changing accounts, or you don't have the time to do it before you go, the best bet for not being ripped off is to buy your local currency in advance, and take cash.
Don't leave this until the last minute - if you wait until you get to the airport before you exchange your cash, you'll be charged the highest commission rates. There are plenty of places that offer currency exchange on the high street at competitive rates - some don't even charge commission at all, so it really is a waste of money to do the necessary as you wait for your flight.
Going on holiday is the perfect excuse for banks and credit card companies to make even more money from their customers, but some savvy spending and advance research should limit the amount you have to hand over as much as possible...
You might also like...