What You Should Know About Driving Abroad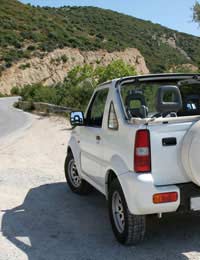 Driving a car in another country can be exciting, and most people enjoy the experience of seeing another country on their own terms without having to rely on public transport. Before you go on your international road trip, there are some important things you need to think about.
If You're Taking Your Own Car
If you want to take your car into a foreign country, you'll need to make sure that your documentation is up to date, that you have all the licences you need, and that your car is in a good enough condition to drive abroad.
Before you go, give the car a once over, checking belts, filters, fluid levels and oil. If anything needs repairing, replacing or updating, get it sorted in the UK. Check your wiper blades, tyres and brake lights and pack an emergency kit which includes travel sickness tablets for anyone caught out!
Before you go, make sure that you have:
a spare set of keys
a GB sticker
headlamp converters
a first aid kit; fire extinguisher; tool kit; spare bulbs and a warning triangle
your car's registration document
your driving licence, International driving licence if required, and passport.
Your UK motor insurance certificate, green card (if you have one), details of travel, breakdown and motor insurance policies.
Do I Need an International Licence?
Do your research and find out whether the country you're visiting needs you to have an international drivers' licence. These are simple to apply for, you just need to go to your local post office, or you can apply for one through the AA. If you go with the AA option, it can take a long time - more than ten working days from the date of receipt, so don't leave this until the last minute.
Make sure you have all relevant licences and identity documents with you in the car, and take copies of all insurance and licence documents just in case the worst happens and they get lost. It's always wise to keep backup copies.
International Insurance Requirements
If you are travelling within the European Union, you'll need to show your certificate of motor insurance if you have an accident while driving. All UK motor policies will give you at least the minimum cover required by all EU countries. Check the details of your policy before you go to make sure that you're covered as comprehensively as possible.
Renting a Car
When you pick a car up from a car rental outlet, insist on checking it thoroughly, in the presence of an employee before you sign anything. Do the same when you return it, and get it in writing that there's no damage. In some countries, you're legally responsible if you get caught with worn tyres or brakes, so make sure these are all in good condition.
In some European countries there are legal requirements to carry safety items such as a fire extinguisher, first aid kit and other items - so find out in advance what you're required to carry and check that it's all there before you drive away.
Insurance cover taken out abroad through a car rental company can often be limited to the legal minimum, and this means that if you have an accident or damage the car, you might not be covered. Check in advance with your UK insurer if they can increase your cover.
Knowing The Rules of The Road
Do some research into the rules of the road in the country that you are visiting, and keep to them at all times. Many rules and traffic regulations are the same as, or similar to rules in the UK, but it's best to check.
Make sure that you understand the meaning of road signs - . Most of them are quite obvious, and the general rule is that triangles warn, circles prohibit and rectangles inform.
Last but not least - make sure you know which side of the road you're expected to drive on!
Avoid Being Targeted By Car Thieves Abroad
Unfortunately, if your car is foreign registered, it's a sure fire target for thieves, and so you need to be vigilant at all times. To avoid unnecessary risks, make sure that all doors, and the boot, are left locked when you leave the car, and make sure all windows and the sunroof are securely closed.
Don't leave cases or possessions on display in an unattended car. If you can't avoid leaving things in the car, keep them in the boot, or cover up where possible. Don't leave your ownership, rental or insurance documents in the car unattended, and always take the keys with you when you pay for petrol.
Driving abroad is fun, and gives you the freedom to see more of the country you're visiting, so as long as you keep in mind the laws of the road for the country you're in, and stick to the rules, you should have a trouble-free experience.
You might also like...