Using a Mobile Phone Abroad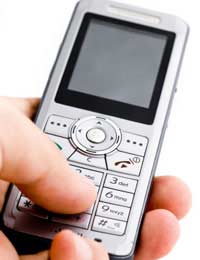 Making mobile phone calls while you are abroad can be a costly business, and although there are moves to simplify the charges and reduce the cost, the mobile phone companies like to make sure they get their cut of our holiday money!
Why Do Mobile Phone Companies Charge us So Much?
The reason that networks give the hike in prices when calling or receiving calls from abroad, is that a UK network has to pay a foreign network, to send your calls to your mobile phone while you are in another country. The cost is passed to you rather than the person making the call to you, and the fees can be as hefty as £2 per minute – depending on your location, tariff and network.
Some mobile operators charge flat rates for calls and text messages to the UK from any network in any country other than the UK, and your phone will default to that network when you arrive at your destination. Some operators do charge different call rates depending on which foreign network you end up with, so be careful. You might want to check whether this is the case with your network, and then try to find out which network is cheapest in the country you are going to before you leave, so that you can manually select it yourself.
How Do I Set Up My Mobile For Use Abroad?
If you're planning to spend some time abroad, before you go you should contact your service provider and make sure you can use your phone in the country you're going to. Some networks don't let you use a mobile phone in some countries. You might also have to activate your phone or take off any international roaming blocks.
What Will I Have to Pay To Use My Mobile Abroad?
They call it 'International Roaming' but don't roam too much, especially if you're on a pay-as-you-go mobile phones as the costs of using a pay as you go abroad can be prohibitive. In some cases, a £10 credit can last for just ten minutes!
Text messages can also cost up to four times as much in the UK , and you're unlikely to get a text message for any less than 25p whoever your provider is. Some do have deals on contract phones which allow you to text at your usual UK rate from your allowance, but be careful because you can end up using up to four of your 'allowed' UK text messages for every text you send abroad. The best advice is to check with your network before you go and avoid any nasty post-holiday surprises.
The general rule is that inclusive calls, texts and web bundles don't usually apply abroad although there are one or two networks who will let you use your inclusive texts and minutes in some countries where it has sister networks. You should definitely avoid surfing the web on your mobile phone when you're abroad, as it will always cost you a lot more than you think.
Changes to The Law in Europe
Since June 2007, the costs of making and receiving calls on mobile phones in EU countries has dropped. All networks have had to lower call prices calls in EU countries, although text messages and mobile Internet use haven't been regulated.
You might also like...