The Airline Lost My Luggage and Still Haven't Found It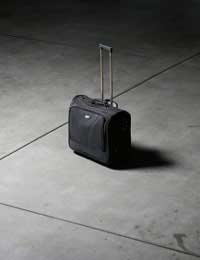 "Our holiday to Canada turned out to be a nightmare. We arrived in Calgary, and waited patiently for our luggage to come around on the carousel. My case came through, but unfortunately my girlfriend's case went missing.
"We filed a claim at the airport, with our airline, but while they apologised profusely and promised to send the luggage on to our hotel as soon as it arrived, it never did. We had to go into the city, even though we were staying out in the Rockies, and try to find a way of replacing all the clothes, shoes and other items that my girlfriend had packed in the case.
"We spent a fortune on replacing the contents of the case, and then had to buy more luggage at the end of the trip because the case still hadn't turned up. It's now three weeks later and there's still no sign of our missing case, despite several phone calls to the airline. What can we do?"
Advice
You did the right thing by filling in the paperwork at the airport, because by doing this you will now have what's called a PIR – Property Irregularity Report. This acts as evidence that you did lose your luggage, and that you reported it at the time.
There's a piece of law called the Montreal Convention which requires airlines to treat luggage as being officially lost if it's been missing for at least 21 days. Having said that, they are allowed to take up to six weeks to find it, which isn't much help if there's anything vital in there that you need replacing.
What Should I Do?
Before you claim against the airline, do some research and decide whether you could be financially better off by claiming on your insurance. If you took out a decent comprehensive travel insurance policy, you may get more compensation from them than the airline, so check their terms and conditions. Be careful – some policies have financial limits for single items, and make sure that you don't end up having to pay a large excess.
If you've decided against making an insurance claim, now's the time to make an official complaint to the airline, asking for compensation for the loss of the original luggage and the cost of new suitcase and contents. You're probably aware that the chances of being fully refunded for your lost luggage is remote. Airlines are like insurance companies and don't give their money out without a fight. Did the airline give you any money while you were at the airport? Sometimes you will be offered emergency cash to allow you to buy essentials but this isn't usually very much and doesn't take into account the fact that we all like to take our best clothes away on holiday!
The airline might ask you for a list of the items that were in the missing suitcase, and if you're claiming for anything of much value, you could even be asked for the original receipts. They will probably try to reduce any compensation, blaming this on depreciation. Until recently there was a limit to lost luggage payouts – airlines could only pay £14 per kilogram. The law has now changed to allow up to £850 per kilogram.
You might also like...
I bought a return ticket I found through skyscanner on 20th August 2015, through Gotogate, company I had not heard from before. The tickets was for Brussels Airlines for a trip on 12th December and returning on 26th December, travelling to and from Uganda, via Brussels. I bought it well in advance as I was on a low budget and thought it would be cheaper if bought well in advance. A few days before the trip I had not received any emails from neither Gotogate nor Brussels airlines with a confirmation, let alone informing me of any changes. In fact, I have never received any emails from Brussels airlines since the purchase, only the confirmation email from Gotogate. I requested an email from Gotogate confirming the times of my flight on the 10th december, in case there had been changes but the times were the old ones, not the up-to-date ones. My outbound trip was fine but on the date I was supposed to return, when I arrived at the airport for the flight at the right time, I was told the plane had left half an hour ago. It was a Saturday, and I was told at the airport by the representative of Brussels Airlines (BrA) that I would have to wait until Monday 28th to go to the office and try to get a new ticket. The next flight from Uganda back to London was on Tuesday 29th, but I had to be at work then so I decided to buy a ticket with a different airline, which cost me £402. I sent an email to Brussels airlines on Sunday 27th December, but I received no response. On Monday 28th, at the BrA office, I was told that the flight time was changed on 21st September and they insist the responsibility of the changes was Gotogate's. Since then, I have been in touch with Gotogate, as I initially thought they were responsible. I Sent BrA another email on 23rd January, but they have not responded to this communication either. Now, I have received a letter from Gotogate alleging that they sent me an email with the updated flight times -which I never received- and they have rejected my claim. I have been in touch with a lawyer, who said that legally, the airline is responsible. However, I have also contacted the UK European Consumer Centre and they suggest that I make a formal claim to Gotogate by recorded mail. Any advice/clarity around accountability and what the best next steps are would be much appreciated. Thanks
Lola P
- 27-Mar-16 @ 9:03 PM
@Julie. You'll have to explain this to the insurance company. Was the insurance policy in their names? If so, it should be fine.
YourTravelRights
- 22-Jun-15 @ 2:10 PM
I booked a holiday private apartment for my parents as a present.All the emails regarding the booking were sent by me and paid for by me, but the accommodation was for my parents.The apartment owner did not make me sign any paperwork and was not interested in who was staying at the apartment.I filled in no forms just sent the money when requested.Sadly my mum had an accident 2 weeks before the travel date and was unfit to fly on the date.She has a doctors letter to confirm this.They do have travel insurance so can they claim.They have been in touch with the insurance company but as I booked and paid as a gift will they still be able to get the money back which I paid?The owner will confirm via email but all the correspondence has been sent to me with no mention of their names.How do they stand?
Julie
- 17-Jun-15 @ 7:27 AM