I Had an Accident on Holiday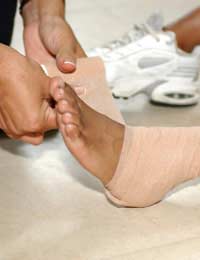 "I've just got back from a skiing holiday where I slipped on a pool of water that hadn't been cleared up in the hotel's reception. Luckily, I wasn't badly hurt, I sprained my ankle and had to have it strapped up, which cost me money, though.
"I also spent much of the holiday in the hotel, rather than out on the slopes, as my ankle had swollen up and I couldn't put any pressure on it for a few days. This completely ruined my holiday, and I had already paid out for equipment and pass which I was unable to use for most of the trip.
"Can I claim any compensation from the ski tour operators?"
Advice
The Package Travel Regulations 1992 made it much easier for people such as yourself to claim compensation directly from a tour operator, by making the tour operator legally responsible for any breaches of contract that take place on your holiday. So yes, legally you can claim compensation back from the company your ski holiday was booked through, as you booked the whole package (travel, accommodation and ski passes) through the one tour operator.
There are three parts to any claim that involves a holiday – and holidays are one of the few areas in law where you can claim compensation for loss of enjoyment – because after all, that's what a holiday is for!
What can you Claim For
The difference in value between the holiday you booked and the holiday you received. In your case, there is no suggestion that there was any difference in value, just a lack of attention to detail when it came to cleaning up.
Loss of enjoyment. You may want to seek specialist legal advice on the amount to claim if you do go ahead with any kind of holiday compensation claim against the tour operator. There are lawyers specialising in this type of personal injury claim resulting from accidents on holiday, and while it isn't necessary to use one, you could find their advice on amounts useful. As your injury is neither permanent or serious, it's unlikely that any payout will be large.
Out of pocket expenses. As you had to pay for medical help, and wasted money on equipment hire, you will also have a case for being able to recover those costs. Keep hold of any receipts as proof that you've had to pay out.
What Should I do Next?
Check your insurance. Did you have cover for a winter sports holiday? That may seem like a strange question to ask, but if you didn't, and you were on a skiing trip, the insurance company could still refuse to pay out on the grounds that you didn't tell them you were skiing. If you have adequate cover, you will be able to claim the medical costs back from the insurance company, but read the small print in the policy. The documentation will also tell you what to do next if you decide to go down the insurance claim route.
All insurers have their own claims procedure, and you'll probably have to provide them with medical reports and other documentation for your claim to be successful.
If you are claiming direct from the tour company for your accident, you need to write to them, enclosing copies of all of your documentation (not the originals) and explain what happened. Quote Regulation 15 of the Package Travel Regulations 1992, and explain that you believe them to be liable for the accident. Make it clear what you are asking for – the amount of out of pocket expenses you are claiming back and any expenses for loss of enjoyment of the holiday.
Ask for a response within 28 days, and send your letter by recorded delivery to the head office address of the tour operator. If you don't receive a reply, you can then consider issuing a claim through the courts.
You might also like...