The Hotel Food Gave Us Food Poisoning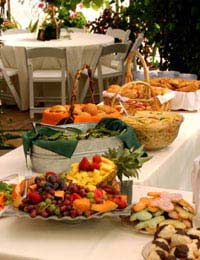 "I went on an all-inclusive holiday with my husband to the Dominican republic. The hotel seemed nice but the food was atrocious. Most of the food was gone by the time you got to the dining area, and then what was left seemed to be cold.
"The food was all served on an open buffet, and although it was half covered, there were flies in the dining area and they could have easily got onto the food. We only ate there a few times, and after we'd seen the general hygiene levels, and also suspected that uneaten food from one day was being heated up the following day, we decided to try and find somewhere to eat out instead.
"Sadly, it was too late, and along with a large group of holiday makers, we both came down with hideous tummy upsets a few days into the holiday. I barely managed to keep anything down after day five, and spent the rest of the two week holiday feeling ill. My husband was the same. Between us we lost over a stone in weight.
"A few of us have got together and want to complain to the holiday firm about what happened. What's the best way to do this?"
Advice
There is definitely strength in numbers when it comes to a claim for food poisoning on holiday, so whatever you do, keep in touch with your fellow sufferers. Swap names and addresses, and co-ordinate your plan of action – will you all complain or just one of you?
It will also work in your favour that in this case, your holiday was an all-inclusive type where people generally eat most of their meals within the hotel and any associated restaurants, because it shows that it's more likely that any food poisoning would have originated there, rather than another restaurant you could have visited.
If the food poisoning you all suffered can be traced to the hotel, and in particular a lack of food hygiene, it's the tour operator who is liable in UK law, under regulation 15 of the Package Travel Regulations. The Regulations make the breach of contract the tour operator's responsibility. Did you report the illness to the tour rep (once you were able to leave the room, of course?) If so, ask for any records that they may have made of the incident.
If you have evidence of a visit to or from a doctor, confirming that your sickness was food poisoning, hang on to this and make sure you use it as evidence.
What Should I do Next?
Within 28 days of returning home write to the tour operator, and tell them that you suffered from severe food poisoning on your holiday. If you have any medical evidence, send copies at this stage, but keep originals. Any doctor's confirmation of an illness usually caught from contaminated food, such as Salmonella or e.coli would be helpful for your claim.
With ruined holidays, there are three areas that you can usually claim for:
Difference in Value: If you expected a better quality holiday than you believe you were given.
Loss of Enjoyment: In your case, your entire holiday was ruined by the fact that you were unable to leave your room for days, and you should be able to claim a reasonable amount for this. Some compensation payouts for food poisoning contracted while on holiday have run into four figures or more – it could be worth getting some legal advice on the actual amount to claim in your case.
Out of Pocket Expenses: Did you have to pay to see the doctor, or for any medical supplies? If so, you can claim for these. Transport to and from a clinic would also be covered, in fact anything that's entirely due to your illness.
Enclose copies of any evidence you have, and it won't hurt to mention the names of any other people who were affected. Ask for a response within 28 days, and say that if you don't hear from them by this time, you will take the matter further through the court system.
Send your letter by recorded delivery to the head office of the tour operator. Their address will be on their website or brochure.
If you need to issue a court claim, you can do this as individuals, or you might decide to issue a joint claim with the other holidaymakers.
You might also like...