Renting a Cottage or Chalet in the UK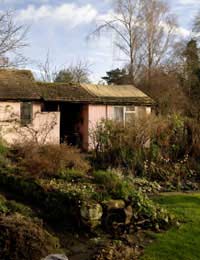 If you want to get away for a while but prefer what the UK has to offer to the allure of a foreign break, you could consider renting a cottage or chalet in the UK.
There are several ways you can organise this - some owners advertise in magazines and newspapers for people to rent their holiday homes, and others use organised holiday companies to arrange their bookings.
Renting a cottage though an agent does give you slightly more protection, but remember that the Package Travel Regulations won't apply if you're purely organising the accommodation through them.
The agent or owners of the cottage are still bound by the law to make sure that any description they make of their accommodation is accurate.
What Should I Find Out Before I Book?
If you're new to holidaying in rented cottages, you'll probably need to find out some basics before you go. It sounds obvious, but ask what the procedures are for handing over keys, parking etc.
If you are taking your car or other vehicle, you need to make sure that parking arrangements are in place, and that you'll be happy to leave the car in the allocated place. A quaint little country cottage may not always have a garage or driveway, in fact it's more likely that in the country side you'll have off-road parking - but it could be in a field!
Ask the owner if they intend to leave the keys in a specific place, or if they are going to send them to you in advance. Also, make sure that you know when the handover will be. Some people have a neighbour or local representative who will meet you and hand the keys over.
Ask in advance if there is going to be a security deposit - and find out what the agreement is for breakages or excessive cleaning costs. Will they take these costs out of the deposit, or will you be billed after the event if there's been an accident? How long will they keep hold of your deposit after you return, if there has been no damage?
Will you have the use of laundry equipment? If so, will there be a charge? And it's important that you find out whether the owner will provide the bed linen (they usually do) and towels (they sometimes don't) because the last thing you want to find when you arrive at your destination in the middle of the countryside is that there are no towels...and no shops for miles!
Holiday Rental Rules And Regulations
Find out what the owners rules are about smoking, if any of your party is a smoker. You are likely to find yourself charged if there's a whiff of cigarette smoke in a non-smoking cottage, so if the owner specifies non-smokers only, whatever you do, don't think you can get away with a crafty ciggie! This is someone else's house, and what they say should go.
Is The Cottage Suitable For Children or Pets?
If you want to take the family pet with you, you should make sure when you book that the owner is happy for pets to be part of the holiday party. Many cottages do cater for pets but in some cases they aren't accepted so you should make it clear when you make enquiries that Fido is coming too!Most cottages also cater for children - again, it's always best to find out in advance if there is a cot, or a children's bed, for example.
Health and Safety in Rented Accommodation
Anyone who rents a property out to holidaymakers needs to ensure that it is safe and well maintained. Any property you rent for a holiday should have a full description of services and facilities available.
All gas and electrical appliances must be regularly tested to ensure that they are safe and that they comply with the relevant regulations.
All furniture in a holiday home has to comply with the fire & furnishing safety regulations and display a safety label
Cots and high chairs must conform to British safety standards so if they are damaged or unsuitable, let the owner know.
When you arrive at the cottage, give it a quick once over - check that glass patio doors or interior doors all have stickers at adult and child eye height. Is the cottage clean? If you have any issues with the state the property is in when you arrive, let the owner (or booking firm) know that you're unhappy as soon as the problems become evident. The longer you leave it, the harder it will be to complain at a later date.
If it's really bad - take photographs too. If you really can't stay there because it's unhygienic or unsuitable (for example no children's facilities when you specifically requested them) you should tell the owner or agent that you are going to return home and ask for a refund.
You might also like...
We have just returned from a similar situation after just one night. The cottage was dark damp and musty - the mattresses were damp and badly stained. We contacted the agents the next morning who just said it was nothing to do with them and we must contact the owner. After departure, I fired off my first email. The response was 'why would you expect us to call you after you left? Oh - perhaps because our holiday was ruined! and even if you have no responsibility contractually surely you have a moral responsibility? We are in process of small claims but has been very stressful. Strong support from local trading standards and Visit England. Suggest only use agencies that are members of trade assoc as they follow a code of conduct + accomodation must be independantly assessed. Website descriptions are meaningless unless supported by some kind of of resposibility from owners.
Peter
- 24-Sep-14 @ 3:58 PM
@rusty. It's an interesting one as there's no way to prove it, short of getting the owner to agree to a damp survey. Let us know how you get on.
YourTravelRights
- 23-Sep-14 @ 10:05 AM
We have had to abandon our holiday cottage because of the musty smell of mould that you get in damp properties. The cottage was clean and nicely decorated but the problem was obviously within the structure of the building. We tried to overcome the problem by leaving the windows open but after the second night had to leave as the musty smell was making us feel ill.We contacted the agents and tried to contact the owner via mobile and voice mail. We have asked for a refund and are waiting to hear from the owner and the agent. We feel that the cottage has a serious damp problem somewhere though there was nothing to see to photograph. All the clothes we brought away from the cottage carried the musty smell on them. I am not hopeful of getting our money back as all the Web sites I have visited give a very negative opinion on consumers rights in these cases. We feel that the agents should not have accepted this property as we,as clients have no way of inspecting the property when we book. We have been renting holiday Cottages for at least 20 years though never before with this company. We have never had a problem like this before even though many of the cottages were very old.
rusty
- 20-Sep-14 @ 12:25 AM