Taking the Children on Holiday: What are Your Rights?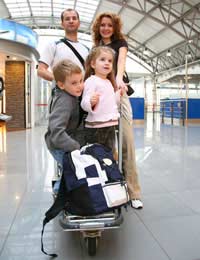 All families look forward to their annual holiday, and children will be very excited about their impending trip on a plane, boat or otherwise. Good planning can help to prevent some of the problems and stresses associated with taking little ones to another country...
Family Holidays and Health Considerations
Kids are more susceptible to upset tummies – and also to catching the nasty diseases that are often endemic in foreign countries, so make sure that before you go, your brood is dosed up with all the necessary vaccinations. Not just the travel-related jabs, either...make sure that all the everyday vaccinations are up to date too.
It's wise to think about how the little ones will cope with a long journey, and adapt holiday plans to take travelling into account. A long-haul trip can take it out of an adult, but a bored, fractious child is going to hate being stuck on a plane for hours on end.
Hot countries can be uncomfortable for young children, and it's inadvisable to take them to countries where malaria or other tropical diseases are common. If the family is very young, it's best to stick to places where they can quickly acclimatise to the weather.
Taking some child medicines from home is a good idea - as well as antiseptic cream and some plasters. If any of the family has regular medication on prescription, consider taking a spare prescription with you just in case. Remember your travel sickness pills before you go – you don't want any accidents!
Travel and Young Children
Take into account the length of journey when you're planning to take kids away on holiday. It's bad enough when they get bored in the back of the car, but at least you can stop! On a plane, train or boat there's nowhere to go, and they will soon start playing up if not kept entertained.
Think about normal routines – if lunchtime is at twelve noon, try and keep it as near as possible to noon when you are travelling. If there's an in-flight meal, it can provide a welcome distraction, and try to pick a holiday with reasonably accommodating flight times and no changes. Remember transfers too – if you have to drive for an hour after you get to the airport, that won't help frayed tempers!
On The Plane
Unfortunately, hand luggage is restricted by most airlines, and it's done by size as well as by weight these days. Try and take the bare necessities and essential things with you, but leave some room for nappies and baby wipes, a bottle, snacks and something for the kids to do, a hand held computer game, pens and a pad.
Check in as early as you possibly can so that you get a bit more leg room, and try and get somewhere that's close to the toilet. They are bound to get bored and fidgety on the plane and so let them sit near the aisle so that they can walk up and down without clambering over other passengers and annoying people. Take toys and distractions with you take their minds off the journey.
When You Get to Your Holiday Destination
Many countries aren't as health and safety conscious as we are, so bear this in mind and always keep an eye out for potential dangers.
Involve the children in the holiday planning if they are old enough, so that they know what to expect and have things to look forward to. Find a holiday that caters specifically for children so that they don't get bored, and if they are old enough let them do their own thing. Set agreed meeting times – like mealtimes - to catch up on the day and talk about what they've been doing.
Holidays and School
Many schools are getting strict about their pupils missing out on lessons, so whatever you do; don't try taking the kids away in term time. If you take them out of school without permission and don't go to the school to make a case for exceptional circumstances, you could be liable for a fixed penalty notice for failing to ensure your children's attendance in school and in some cases your kids may have their names removed from the register.
Taking Children Out of the Country If You Are Divorced
There shouldn't be any problems with taking children abroad on holiday, but it's best to make sure that the absent parent knows about the plans to avoid any misunderstandings. If there has been a dispute in the past over the children, and the courts have made a residence order, you can usually take them away for up to one month without written consent of the other parent.
If there is a dispute over a holiday, you should seek legal advice – the other parent can apply to a court for an order preventing you taking the children out of the country if they decide to make things awkward for you.
With a little advance planning, the whole family can enjoy a break and return refreshed rather than stressed!
You might also like...