Your Rights When Booking a Wedding Abroad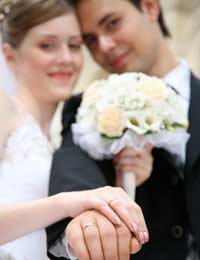 Getting married abroad has become a more popular option over the last decade, as the cost of a wedding in the UK leads couples to combine ceremony and honeymoon in one, often exotic, location.
Getting Married Abroad
A marriage carried out abroad is legally accepted in the UK as long as the ceremony complied with the laws of the country the ceremony took place in. If you are worried about the legitimacy of a marriage ceremony, the embassy or the consular of the country you want to marry in will be able to give you advice.
Where Can I Get Married Abroad?
Quite literally, getting married abroad means that the world is your oyster! Most high street travel agents and websites have sections dedicated to weddings, and will be more than happy to help you organise your dream wedding.
You can get inspiration from wedding websites and magazines, which often have lists of countries and the laws that apply. Some countries have a minimum residence requirement, such as Cyprus which has a requirement that you must both have been in the country for at least three days - or as many as 15 if you get the licence requirements wrong.
It's always a good idea to enlist the help of a travel agent with this sort of thing, as they usually have experienced people on hand to help, and failing that, you're protected by the Package Travel Regulations if something should go wrong.
Booking a Wedding Abroad - The Practicalities
Once you've decided where the wedding is going to take place, see a travel agent to arrange the details. You could also arrange the wedding yourself by contacting the venue and organising the different elements of the day. Wedding packages are available in many hotels, some even offer the ceremony for free as long as you stay a certain number of nights with them.
A hotel ceremony is usually a civil one, unless specified. You can even exchange your vows underwater or on a beach. Most packages just offer the basics, ceremony, marriage licence, certificate and legal fees, and you'll pay extra for a video, photographs, flowers or a wedding cake.
Remember that if you book the separate elements of the wedding yourself, although you retain total control over the event, you aren't protected by the Package Travel Regulations.
What To Remember When Booking a Wedding Abroad
Get the paperwork in order
- It's important to make sure that any visas, passports and travel documents for any of the wedding party are going to be up to date and valid for the duration of the trip. You'll also need the relevant documentation in order to get married, which will include birth certificates, and decree absolute certificates from any previous marriages. Contact your chosen country's embassy in the UK for up to date information.
In some countries you'll need a Certificate of No Impediment - you can get this from your local register office. To get one of these, you have to give notice of marriage to the register office, as if you were marrying in the UK, and after 21 days a certificate is issued. You'll probably have to send a copy to the venue where the wedding is taking place, and present the original on the day.
Make absolutely sure that the venue is licensed to carry out weddings - if it isn't, your marriage may not be legal. If in doubt, check with the embassy for the country you intend to marry in. Make sure that there is a minister or official available to carry out your ceremony - and don't even think about randomly deciding that you want to get married abroad, no matter how romantic the thought. You'll also need an interpreter if you are getting married in a country where the ceremony is conducted in another language.
Make sure that you have adequate travel insurance - and consider adding specialist wedding insurance too. Imagine what you would do if the airline lost the wedding dress, for example. Read every word of small print so that you don't get caught out by hidden exemptions.
Find out about local customs, religion and culture - there may be rules and etiquette that you need to remember, and you might not be able to have a Christian ceremony in some countries.
Check which necessary vaccinations you need - and make sure you have them at least six months before you travel - especially for exotic wedding locations.
If you want a record of your marriage to be kept in the UK - although there is no legal requirement to do this, you should contact The ONS General Register Office.
Weddings abroad sound complicated, but in reality, it's just a case of being organised, getting all the paperwork in order, and making sure that you take it with you!
You might also like...
My sister booked trough Thomas Cook to get married in Cyprus in June 2019. They had everything booked including the spot to be married on. As it's a popular hotel to be married in they were lucky to get the full day they wanted. 36 people booked on and they just informed us the other day that our original flights which were sat-sat is no longer a route/day they will fly on, so has been changed to wed-wed. Which means the hotel is no longer able to accommodate the same locations as it's booked up. Obviously very stressful and upsetting time for my sis and her fiancé. I would appreciate some advice on this and what you would do etc. It's ATOL protected and they took our wedding insurance, please advise us on our rights etc and what to say/do. Thank you
Owen
- 7-Jul-18 @ 4:37 PM