What You Should Know About Cruises & Coach Tours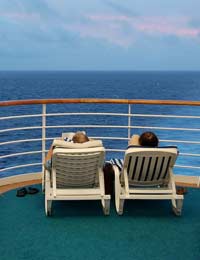 Cruise travel is increasing in popularity, and coach tours have long been favoured by people who want to take the stress out of getting around in a foreign country, and seeing as much of it as they can. So what should you look out for if you're booking either?
Where To Book a Cruise
Most people book cruises though a specialist travel agent. They are certainly just as easy to book online, but the difference between booking a trip to Torremelinos and a cruise around the Med is that a cruise has many elements that need taking into account - indeed there are cruise lines which won't let you book online, simply because they think it's too complicated to arrange without a proper conversation with a real agent!
They probably have a point - if you end up with a cruise you're not happy with, there really is no escape.
Specialist travel agents are also known to get all the best deals, so if you want to get a bargain, it's a good idea to head for an official cruise agent rather than spend fruitless hours surfing the net.
What Do I Take Into Account When I'm Choosing a Cruise?
There are several things you need to think about when you're booking a cruise:
Destinations Find out in advance about the ports of call that will be part of the cruise. Do you want to see certain attractions, travel a popular route, or go somewhere a little different? It's worth knowing that if your itinerary consists mostly of smaller ports you are more likely to receive a warm welcome and find interesting excursions.
Length of cruise if you haven't been on a cruise before, you need to consider how you'll cope with days on end at sea. Not to mention sea sickness. Of course, the whole point of a cruise is that you'll be at sea, so theoretically you wouldn't be booking it if you weren't happy to sail, but realistically experts agree that the best happy medium to aim for is a couple of days actually at sea for every week of the cruise.
Cabin grade When it comes to choosing a cabin, think of the size, and its elevation. A cabin on a cruise ship will be much smaller than a good quality hotel room, and it's best to aim for one that's reasonably high up. The best cabins always go first so book early.
Gratuities According to the Passenger Shipping Association (PSA) it's quite normal these days for cruise companies to include tips in the overall fare, or issue standard tipping advice with tickets so that there are no nasty shocks. Some cruise companies even have a no tips policy. Policies vary greatly between companies though, and even sometimes on different ships within the same company, find out the precise details before you book.
I'm Booking a Coach Holiday - What Should I Look Out For?
Travelling by coach cuts out horrendous check-in queues or that last-minute panic while you're waiting for your luggage to appear on the carousel. You don't have to drive anywhere, get dropped off right next to tourist attractions and get to share the trip with like minded people.
If that sounds appealing, a coach tour is easy to find and book online, or through travel agents, but here are a few things you need to keep in mind when you're choosing your trip.
Where do you want to depart from? You will need to check that the coach tour operator has a pick up point close to where you live, to avoid extra transport costs.
Accommodation - you'll be staying over in hotels specified by the tour operator - find out where they are. If you have any special requirements, make sure that you communicate them to the operator or agent when you book. These can't usually be changed after a booking has been confirmed, although many operators will try to accommodate reasonable requests.
Luggage - you'll probably be limited to how much you can take with you - often this is one medium sized suitcase per person and a maximum weight of around 18 kilos (40lbs). You can usually take a small item of luggage like a holdall onto the coach, too.
Coach trips and cruises are both counted as packages under the Package Travel Regulations and so you have exactly the same rights if you opt to spend your holiday on a boat or coach as you do if you fly over to your destination. Coach and cruise trips can be a relaxing way to get a good view and a stress-free journey...so long as you make sure you pick the right one for you!
You might also like...
Booked a cruise in June 2017 for December 2017 booked all excursions and had confirmation on 6/12 had documents come through3 excursions had been cancelled. Itinerary changed and not notified at all. The three excursions that had been cancelled were the reason why the holiday was booked. Now travelling from UK to Hong Kong to go to places I had already been too! No contact from Regent Seven Seas cruises to advise of changes or offer refund or new excursions. Travel agent was not informed of itinerary change my booking still shows same itinerary. Their website doesn't. Don't want to travel long haul to go somewhere I have already been to sooner cancel and stop at home and save £7000.
Karamenga
- 6-Dec-17 @ 11:10 PM