What To Look For When Booking Travel Online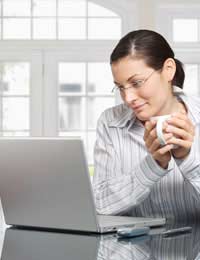 Buying travel and holidays online is easy and often cheaper than going through a high street travel agent, but there can be pitfalls.
First Know Your Travel and Holiday Rights
If you buy a holiday online from a company that's based in the UK, you have the same rights as you do when you buy any goods and services from a shop or catalogue. So anything you buy should be:
satisfactory quality
fit for any particular purpose that you have made known to the seller (travel agent)
as it's described.
If you book holidays, flights or hotels through an online travel agent, you make a contract with the tour operator, and they are responsible in law for making sure that what you've bought is as it should be, and as it has been described. If you buy a holiday that's sold as a 'peaceful retreat' and end up on a holiday park surrounded by children, you could legitimately ask for compensation for misrepresenting the trip on their website.
Although you pay the travel agent, in law they are considered to be acting on behalf of the tour operator, although they are obliged to make sure that the booking is made correctly (which should be easier online anyway.)
The Trade Descriptions Act 1968
The Trade Descriptions Act states that any statement made about the provision of services, accommodation or facilities must be 'truthful and accurate'
For example, if your hotel is advertised as being 'a short walk from the sea front', it shouldn't be a ten mile drive. It's an offence under the Trade Descriptions Act to knowingly, or recklessly, make a false statement.
Distance Selling
If the company you are booking through is part of the European Union it must also obey the Distance Selling Directive. This means that before you buy a holiday online, you have to have certain information.
the supplier's identity and address
a description of the goods or services on offer
the full price (including any taxes)
details of your cancellation rights.
Getting a Good Deal
It pays to shop around when you're booking a holiday, so compare what's available on different websites, as well as the different prices before you make that decision.
Try to be flexible with your dates, as well as the preferred location and accommodation. You can narrow your choices down later on but start as wide as possible and you won't rule out excellent deals straight away.
A reputable travel website should have:
competitive price quotes
prices that include all taxes and supplements
discounts for booking online
electronic ticketing or free delivery
well defined terms and conditions
a secure payment area
It's absolutely essential to check the terms and conditions of your booking before you commit yourself to anything online - and keep hard copies of all confirmations and other documentation. Once you have booked your holiday, as far as the law is concerned you've read and accepted any conditions and you can't rely on 'But I didn't read that.'
You should receive a confirmation e-mail or notification after you've booked online. Check this very carefully because it's your proof of contract and should give you the full details of what you just booked. It should give you details of the flight and other journeys, the accommodation you'll be staying in, and any special request. If you spot anything wrong, sort it out at this stage, and don't wait until later to query anything you're not sure of.
Just because it's easy to choose a holiday online, doesn't mean you don't have to be careful! But if you do shop around, you can get a fantastic deal...just be flexible and be aware.
You might also like...