What To Do If Your Flight Has Been Double Booked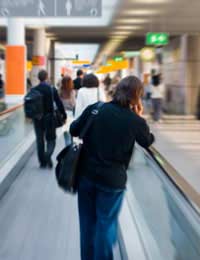 If you've been looking forward to your holiday for longer than you can remember, but turn up to the airport only to find that they overbooked your flight and you're at the back of the queue for travel to sunny Greece, it's demoralising, upsetting and let's face it, downright rude.
What is Overbooking?
Airlines routinely overbook flights, mainly because they expect some of the passengers who've booked tickets in advance not to turn up. It isn't illegal, even though it's downright inconvenient for passengers denied boarding through no fault of their own. It can mean that passengers arrive – only to be told that there are no seats left on the plane for the flight they booked, even with a confirmed reservation. If this happens to you, and you are:
At an EU airport, travelling with any airline or
At a non-EU airport but flying into an EU airport on an EU airline.
you are entitled to claim compensation under EU law, so long as you have a confirmed reservation and checked in for the flight in good time. This is called Denied Boarding Compensation, and the rules are under EC Council Regulation 261/2004 – remember this regulation whenever you go to an airport, one day it may come in handy!
What Can I do if the Flight is Overbooked?
As soon as you realise that you've been 'bumped' you need to decide whether you want to claim a full refund or whether you would prefer to wait for a seat on the next flight. If you decide that you want to take the next flight, you can also ask for cash compensation, and a free telephone call, and meals and a hotel for the night if you can't fly until the next day.
The Regulations say that you will also be entitled to compensation if:
you have a valid ticket
you have a confirmed reservation
you checked-in by the deadline given to you by the airline.
If so, the airline has to compensate you. You should be given the choice of:
If you decide not to travel, you are entitled to a full refund, within seven days, of any parts of the tickets you didn't use. If the overbooked flight was a connecting flight, you've done part of the journey and you don't want to continue with it, you're entitled to a refund of the total price of your ticket. This includes the parts of the journey you didn't make because the flight was no longer serving any purpose in relation to your original plan. You should also be offered a flight back to where you originally departed from.
You could decide that you want to travel to your final destination as soon as possible or, at a later date instead. If the airline flies you to another airport in your destination city they also have to pay for any transfers to the original destination airport or to somewhere close by.You're also entitled to compensation. Don't be fobbed off with vouchers unless you particularly want them – you can insist on financial compensation. The amount you will be entitled to depends on the length of your flight and how long the delay is getting you to your destination.
How Much Am I Entitled To?
Length of flight up to 1500km, delay up to two hours - €125
Length of flight up to 1500km, delay more than two hours - €250
Length of flight 1500km to 3500km, delay up to three hours - €200
Length of flight 1500km to 3500km, delay more than three hours - €400
Length of flight more than 3500km, delay up to four hours- €300
Length of flight more than 3500km, delay more than four hours - €600
Unfortunately, there's nothing much that you can do to stop the airlines from overbooking flights – it's been going on for many years and probably will for years to come. At least there are now regulations in place to make sure that if it happens to you, you don't lose out completely – even if it does pit a dampener on your holiday spirits...
You might also like...
Could I book two tickets on two different reservations with ryanair (I'm taking my own kids and someone else's).
DocAiden
- 22-Jul-20 @ 4:03 AM
I had purchased a business class ticket to Tokyo but was told I had to sit in premier because of double booking.My return flight was honoured. Can I ask for the cost difference on the outbound flight.
lost laggagechicago to karachi one beg missing 02 /24/16 please take care of itthank you
sam
- 24-Mar-16 @ 2:40 AM
I have lost luggage with national express coaches on return trip from London, on arrival home to Poole their wasn't any luggage left in the hold, I made a complaint over 2 weeks ago and apparently national express are still investigating. They said 2 weeks, how much longer should I wait? Should I expect compensation. Approx value is around £500
Jane
- 9-Mar-15 @ 8:55 AM
GOOD INFORMATION FOR PEOPLE WITH DELAYED BAGGAGE
ANIL
- 6-May-14 @ 4:24 AM