Boating and Water Holidays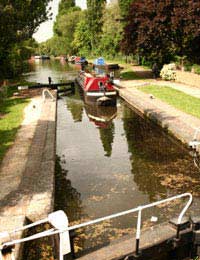 Boating holidays and canal cruises are enjoying a popularity revival at the moment, and they can be a great way to have a quiet holiday, sailing through the peaceful countryside, sightseeing in historic towns and cities, stopping off ay typical quaint English country pubs, working the locks, or just having a relaxing break.
Will Boating Holidays Suit Me?
Most people will enjoy boating holidays, but it's best to make sure that you have at least a couple of adults on board who will be capable of steering, working locks and gates. One person needs to be available to steer the boat at all times, and although it's OK for a child to do this, they will need to be supervised. If you're holidaying as a couple it's best to hire a small boat, and to be mindful of the number of locks you're likely to encounter on your trip, because of the logistics of opening gates and steering at the same time.
What Do Boating Holidays Involve?
Most boats are self catering, so you have everything you need to hand if you want to cater for your family or party on the boat. If not, there are usually plenty of waterside pubs and restaurants to choose from, ready to look after the appetites of hungry sailors. It can be exhausting work, and sometimes a respite in the form of a cold drink and a sit down is well worth waiting for.
When you come across locks, you'll find that one person will need to stay on the boat while another gets off to work the paddles and gates. If you have more than two people on the trip, this can be a lot easier to manage, as some of the locks and gates can be hard work.
What are The Boats Like?
Most boats are specially designed for boating holidays, and they should be clean and comfortable. They usually have all mod cons – kitchen, bathroom, shower facilities, central heating and generally have quiet diesel engines.
Different Types of Boating Holidays
If ambling gently down a straight stretch of water doesn't 'float your boat' – you could always try a more adventurous water sport holidays option such as a 'ring' trip like the Four Counties Ring which combines the countryside of Shropshire and Staffordshire with the potteries district and includes the daunting 3000 yard long Harecastle Tunnel. If you're going to make up your own routes, which is possible, get advice from the boat hire firm to make sure it's doable.
What About Noise at Night Time on Boating Holidays?
It can be noisy trying to sleep on a boat, but like all holidays, with boating and water sport holidays this all depends where you stay. The same goes for noise emanating from your party – be aware of those around you and make sure that you're not keeping other holiday makers awake with your partying.
Most people like to go on canal holidays because they want a bit of peace and quiet, so if you do feel the need to turn up the stereo and have a party, it's considerate to do so away from other people. Remember that sound carries much further over water, too.
You might also like...