Theme Park Holidays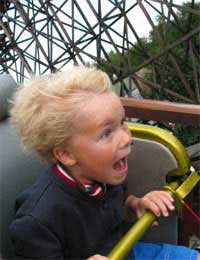 If you have a penchant for indulging your inner child – or just indulging your kids, maybe theme park holidays will be the thing for you?Things have moved on since the early days of theme parks, and they are now huge commercial concerns packed with things to do for all ages. Some of the bigger parks have accommodation available, or at the very least they have a partnership arrangement with local hotels and offer accommodation and park deals for families.
What To Expect From Theme Park Holidays?
Some theme parks appeal to thrill seekers and adrenaline junkies and can be very ride-centric, although most theme parks will have rides of some description. Some also feature a wide range of entertainment and live shows, activities and water features. There are animal focused, and water based theme parks too, which offer adults and kids alike the chance to have fun without too much stomach-turning. For something a bit different, there are even theme parks dedicated to chocolate! If you're looking for entertaining days out, there's likely to be a theme park to suit you.
What are the Best UK Theme Park Holidays?
Although there are many different theme parks in the UK, there are few worth mentioning just because of their popularity and the fact that they offer more scope for holidays by either offering accommodation to visiting parents and kids or promoting links with local hotels
Alton Towers - is the most popular theme park in the UK, and is reputed to have some of the most astonishing rides in the country, if that's your kind of holiday. A new rollercoaster named 'Rita' has recently been added to the repertoire, which is ideal for adrenaline junkies.
If you don't think you can do the Alton Towers thing in just one day, they have a dedicated resort for longer holidays, complete with themed hotel rooms.If you stay in the hotel, you also benefit from unlimited access to the water park and the theme park for the time you are staying at the hotel, and get access to the rides a full hour before anyone else. The hotels even have entertainment, so if it's a theme park holiday you're after rather than a day out, it's a bonus.
Thorpe Park – Another theme park which markets itself as being full of great rides, including Europe's tallest fastest launched roller coaster. Thorpe park offers events and entertainment on the complex too, and the opportunity to book a short break or holiday trip on the theme park through the Thorpe Park website.
Chessington World Of Adventures – Chessington is marketed as being perfect for younger kids rather than simply an adrenaline experience. Around 90% of rides are suitable for kids under the age of 12, so there will be no long faces if big sister goes on the roller coaster and little brother is too small.
Chessington has a safari themed Holiday Inn nearby which you can book through the site, or if you want to save some holiday money you choose from a selection of nearby hotels online. They offer a two day pass so you can enjoy Chessington as part of a bigger holiday at a discount.
Drayton Manor – Drayton is the UK's largest family owned theme park and has plenty of exciting rides designed to appeal to kids and adults. The site boasts its own caravan and camping site with 75 pitches and on-site facilities like toilets, showers and security. If camping isn't your style, spend the holidays in a nearby hotel which can be booked through their website.
Legoland Windsor - is a unique theme park probably best known for the fact it contains 53 million LEGO bricks. You can book tickets for accommodation and entry to the park through the website, and for an even more enjoyable trip, you can combine a trip to Legoland with a trip to Chessington, and book the whole holiday through the website.
You might also like...