Considerations When Travelling Alone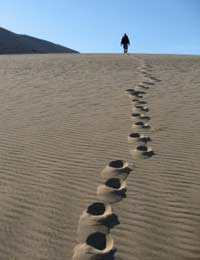 Most of us feel the need to get away from it all on our own occasionally, and even make a holiday of it. It's great travelling on your own as you can do as you please, whenever you please. But there are some safety issues that are worth taking into consideration before you set off alone into the great unknown.
If you Are Woman Travelling on Holiday Alone
More and more women are going it alone and travelling solo – it can be a great way of feeling empowered and independent. Even though sisters can undoubtedly do it for themselves, there are still things that you need to bear in mind if you are a woman travelling alone or on holiday.
In some parts of the world, women aren't looked upon as being independent, and so you may be viewed with suspicion and even hostility by the natives who aren't really accustomed to female emancipation. Don't let this put you off, but do be aware of cultural attitudes in the places you visit so that you can be ready for any unfavourable comments or reactions.
It goes without saying that you must dress according to the culture of the country you are visiting. Many countries look at exposed flesh as some sort of offence – or even an invitation. Be mindful of how some short skirts, shorts, and even swimsuits may be judged in other countries.
Always stay aware of what's going on around you, and avoid exposing yourself to risk while on holiday alone. Some things are a definite no-no when travelling solo, such as hitchhiking, accepting favours from strangers or telling people you've just met where you are staying or headed to.
Always carry a personal safety alarm or whistle – they could give you valuable time if you do find yourself in a difficult or dangerous situation. Be aware that some devices can't be carried on board an aircraft.
Remember that feminine hygiene products and contraception can be hard to get hold of and very expensive in some countries, so take enough with you to last the whole trip.
Issues For Men Travelling Alone
Men travelling alone on holiday aren't usually seen as being vulnerable, but they can be targeted in the same way as women so they need to be aware of safety too.
Pick a well-known hotel or resort and find out about the area before you book. Don't draw attention to yourself as a lone traveller, and act confidently.
Don't make deliberate eye contact with strangers, as this can often be taken as hostile. One way around this is to wear sunglasses so that nobody can see if you're looking at them anyway!
Sometimes single males travelling alone can be treated with suspicion, so if you get twenty questions about your destination and intentions, try not to take it to heart. Just smile and answer the questions.
Children Travelling or Going on Holiday Alone
There are some occasions where children need to travel alone, and they need to have safety drilled into them for obvious reasons.
Before booking a solo flight for a child under the age of 16, you should check with the airline whether they allow unaccompanied children on flights. Some don't, and it could be a costly mistake.
Give young children a telephone number, address and contact details of who the child is meeting at the other end of the journey, plus a copy of their travel arrangements to refer to. Tell them not to go with anybody else when they reach the airport, and make sure they know who to contact and how.
Make sure children travelling alone always have at least one photocopy of their passport and tell them to keep this separate from their real one, and write your own contact details in it too.
Travelling alone is exciting and fun - as long as you know where you're going, what you're doing and what to look out for...
You might also like...