Specific Activity Holidays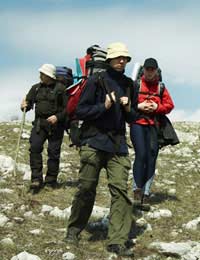 If you're looking for a holiday with a difference, there are as many different types of speciality tour and activity holidays as there are countries to visit, so the sky is really the limit.
What Happens on Activity Holidays?
Most people associate activity holidays with children and families, although you might want to go as a single or part of a larger group, so there's no need to let that put you off. If you're sport minded there are sporting holidays designed to appeal to just about everyone.
Starting slowly, you can book a walking holiday in gorgeous scenery, and most of them specify whether the trip is going to be typical of family activity holidays, involve full on hiking, or just a gentle appreciation of your surroundings. Most tour operators grade their walks from easy to walks requiring you to be very fit, so be careful!
On the other end of the scale, sports wise, are holidays for really sporty people – paragliding, kite surfing and water sports can all be catered for. Best to book this type of holiday through a specialist agency who can advise you on what you need to take, and make sure that you're suited to the type of activity holidays you've set your heart on.
Non Sporting Activity Holidays
If a sporting activity holiday isn't your idea of a good time, you might prefer one of the other myriad of specialist holidays that are springing up all over the world. If you love arts and crafts, you could consider indulging your hobby on an art holiday, which will give you the opportunity to enjoy your hobby and meet like-minded people too.
Most art holidays tend to revolve around painting, and for this reason are often set in particularly picturesque areas, but some artists organise activity holidays throughout the world to cater for all disciplines. There are plenty of special interest activity holidays which give you a chance to work with sculptures and textiles, for example, workshops in the Caribbean or Wales.
Off The Wall Activity Holidays
Perhaps not suitable for family activity holidays unless you are a horror film loving family, you can go on a Dracula tour in Transylvania! It might be a bit unusual and you're unlikely to return with much of a suntan, but at least you'll have an interesting trip to tell people about!
Slightly less unusual are the activity trips that give you the chance to explore an interest such as archaeology – time team style digs for example.
On the same lines, there are several antiques holidays in specific places – mostly USA but some in Europe too. These holidays are ideal for the closet antiques expert who wants to find out a bit more to impress their friends on a Sunday night watching the Antiques Roadshow.
If you fancy trying something just a little bit different, and an activity holiday appeals to your wilder side, you can research ideas and book through specialist websites dedicated to your chosen area.
It certainly beats sitting on a beach for 14 days getting sunburned!
You might also like...