Holidaying In The UK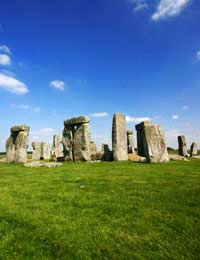 With the credit crunch in full swing and talk of a global recession, many people are choosing to take their annual break in the UK. The sunny British shores also appeal to people who really dislike flying or travelling by boat – one of the disadvantages of living on an island!Recent research carried out by the Halifax came up with the conclusions almost a third (29%) of families are now choosing to stay in Britain for the summer, and discovering what the UK has to offer.
So, What Can I Do in The UK?
Part of the survey also looked at the places we choose to go when we decide to take a holiday in the UK. The top ten places to visit during holidays in the UK are:
Stonehenge
Giant's Causeway, Ireland
Big Ben
Edinburgh Castle
Ben Nevis, Lochaber
The Needles, Isle of Wight
The Eden Project, Cornwall
The London Eye
The Blackpool Tower
The Angel of the North, Gateshead
How Can You Keep Your Costs Down on Holidays in the UK?
Well, you'll have to pay for most of the tourist attractions, although some (like The Needles or Big Ben) are free of charge. The costs of a UK theme park or tourist attraction might be non-negotiable – although check that there aren't discounts for families, if you're an OAP or unemployed.
Saving Money on Holiday Travel in the UK
With the cost of petrol so high, you could try and reduce your fuel outlay by using a website like www.petrolprices.com, which lets you search the fuel prices at more than 10,000 stations.
Take less with you – travelling light can really make a difference to the cost of your journey. A load of 100kg in the car will actually reduce your mileage by up to five miles per gallon!
If you really want to save money – and be eco-aware too, try the coach. There are deals aplenty if you look online, and you could travel to a wide range of UK destinations for very low prices if you book your trip well in advance.
Train travel in the UK isn't quite as economical but you can still find good deals if you book in advance and know what time you're travelling. It's also worth doing price comparisons for your journey, as sometimes it can be cheaper to buy two singles than it is to buy a return fare.
Where Can I Stay When I Holiday in The UK?
The obvious answers – hotels, B&B's and holiday villages are well-travelled, but if you think creatively you could find a cheap break and still enjoy the holiday.
Camping is one idea – but let's face it, you have to be dedicated to the cause to rave the possibility of a typical English summer. Caravanning has similar appeals – and downsides.
If indoor accommodation is more your style, you could consider researching youth hostels. Far from being tatty places suitable only for skint teenagers, many hostels are now trying to be more upmarket and appeal to all age groups with double and even family rooms.
University towns often rent out rooms in the empty rooms halls of residence over the summer holidays and other breaks.
Private holiday homes are often advertised for rent online or in magazines. Be aware of who you're renting from, and if you choose wisely you could save a fair amount of cash by cutting out the middle man.
Holidaying in the UK needn't cost the earth if you choose wisely and make a few creative decisions. However, one thing that can't be guaranteed is good weather...so pack your brolly!
You might also like...