Going On Safari Holidays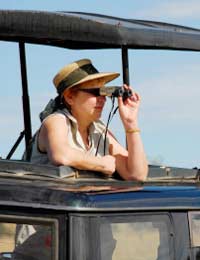 Safari holidays can seem a little daunting to anyone who hasn't already been on one, but once you've got the bug for big game spotting out in the open, you can get hooked on the adrenalin and excitement of big cat spotting.
Safari holidays are now big business and this has opened up the availability for this kind of trip to more and more people. You can book through a normal travel agent, but it's probably advisable to book a full on safari trip through a specialist safari holidays agency who will be able to advise you on all aspects of the holiday, and your own safety.
Where Can You Go on Safari Holidays?
There are three main areas in Africa that specialise in safari holidays – although you can go on safari elsewhere. These are:
East and Central Africa: Kenya, Tanzania; Malawi and Uganda
Southern Africa: Botswana, Namibia, South Africa, Zambia and Zimbabwe
Indian Ocean: Madagascar, Mauritius, Mozambique, The Seychelles, Zanzibar
Remember to check what season it will be in your chosen destination. Whether you visit in the wet season or dry season will make a big difference to your safari holiday. The dry season is better for game viewing because you will find that more animals gather around fewer watering holes. But the advantages of the wet season are that because the animals and the safari vehicles are more widely dispersed, you may even catch sight of a few newborn animals in the wet season.
What Are The Types of Accommodation Available for Safari Holidays?
As with any holiday anywhere, you get what you pay for. Certain parts of Africa are well known for providing classy, upmarket residences for safari holidays, but some are closer to nature and although you get all the excitement of the safari, the accommodation can be very basic. You need to decide beforehand what level of luxury is important to you and budget accordingly.
If you're determined to stick with the luxury end of the safari holiday market, an air conditioned safari lodge might suit you. You'll find these – at a price - in South Africa. If you're willing to downshift slightly, there are plenty of high-quality permanent tented camps or rustic lodges available, and these are open through all seasons.
For the real back to nature experience, a bush camp could be the answer. These aren't usually available in the wet season and they range from simple tent like structures to lodge-type accommodation. The idea is that you will be close to nature but many still include shower facilities and decent toilets.
How Do I Get Around on a Safari Holiday?
There are many different types of safari holiday, ranging from driving a 4x4, travelling on horseback or even on foot. Horse riding safaris are a favourite with real animal lovers because the wildlife doesn't see you like it does a car – and as for walking, well that's an option for the braver and more experienced safari goer! You'll go with a guide who knows his or her way around, and is knowledgeable about safety. A good quality guide is essential as you'll also get to will see far more than you would alone, and an entertaining guide will bring the safari to life with their information about birds, plants and animals.
If you really want to push the boat out, you can even book a hot air balloon trip, or a boat safari, which will give you a close-up view of animals as they drink from waterholes.
You might also like...
The underlying fact is that you get to decide what you want and when you want. I think that is what a true Safari in Africa is all about. Thanks for sharing your experience.
Felix
- 21-Jul-14 @ 8:17 AM