Cheap Flights: What's Included?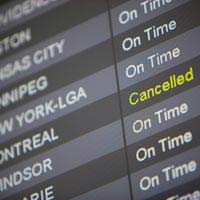 When you're looking for a flight, instinctively you want to find the cheapest possible way to get from A to B in as much comfort as is feasible on a budget flight. The problem is that you never know quite what you're going to get when you set out to book that 'bargain' flight.
Did You Know?
If you know more or less when you need to fly, you can actually maximise your chances of getting that flight at the best possible price by doing a little homework and knowing the very best optimal time to book. Experts have actually found that the optimal time to get a bargain on a flight is booking it eight weeks in advance, on a Tuesday afternoon. Why? Because eight weeks is the airline's cut-off point, where advance bookings turn into last minute deals. The majority of cheap flight deals and special promotions are scheduled to start on a Monday, and so by Tuesday afternoon most of the other airlines and discount travel websites have cottoned on to the deals, got them on the websites and if they are rival companies, matched or bettered them. Result!
What to be Wary of when Booking a Cheap Flight
It's no great surprise that if you book a cheap flight you won't be getting free champagne and the constant attention of the flight crew. If it's luxury you want, pay a bit more and fly with an upmarket airline.
Booking Fees
There's very little chance of avoiding paying a booking fee if you buy online with a credit or debit card as most airlines charge for this privilege.
Priority Boarding
All this means is that you get to the front of the queue and can pick your seats first. If you're going in a big group this might be worth doing, but otherwise you don't need to worry. Just deselect it as in some cases you can find they helpfully tick the box for you!
Extra Leg Room
Standard class seats on a discount airline flight are pretty much just that, a seat. And not a very big one at that. Some airlines offer an option to upgrade your seat for extra legroom but this isn't common on a cheap flight because the aim of the company is to get as many people in as possible and if they are squashed in like sardines, well never mind. You will pay for the privilege of being able to stretch your legs out, make no mistake.
Once you've picked your flight and booked it, you'll usually get to the online booking page where you'll be presented with a long list of extras. You don't need to pay for these but be very careful if you choose not to, as some of the things you might expect to be included on a flight are optional extras on a bargain flight.
Online check in
This means that theoretically you don't need to wait around quite so long as you would if you opted for standard check-in, as all the details have been registered online before you even get to the airport. Most people know that online check in doesn't really make that much difference unless you're travelling luggage-free. Some airlines have an option for online check in, and others such as a certain Irish budget flight company sometimes make you pay for it whether you want to or not. Do not lose your boarding pass or forget to take it with you to the airport, as you'll be charged if they have to print you off another one.
Luggage
If you're going away for more than a couple of days, don't be tempted to think you can get all your necessaries into a cabin bag. It's not going to be possible. Most cheap flights charge you for luggage, and you'll be given the option of a small or a large allowance of anything up to 20kg. Don't go over this as you'll be charged (again, right through the nose) if you are over. If you're heading to a hotter destination you may get away with a 15 kilo allowance, but if not, it's better to err on the cautious side and opt for 20kg just to avoid excess baggage fees.
Cabin bags – the rules on hand luggage are pretty strict as space is a premium on cheap flights. Some of the budget airlines offer you the chance to purchase a cabin bag that they guarantee will be allowed onto the flight…but these can be very expensive. Make sure you only take a small bag on with you because if they deem your hand luggage to be oversized you could be forced to put it in the hold…which is going to cost you.
The best advice for anyone flying with a budget airline is to check everything and assume that the cost of the flight will be a LOT more than is advertised…
You might also like...